Mason jar recipes have become a favorite of mine.  Not just because everything tastes better in a mason jar …
because, seriously, everything does … desserts, drinks, meals.

But making dessert, drink, and meal recipes in mason jars means they're easily portable.  And single serve.  Just screw on the lids, pack them up, and you're on your way.
It's so easy.  And dare I say peasy? 🙂
Yet not everyone understands the whole mason jar dessert, drink, and meal concept.  I guess I can understand that.  It's only just recently that the mason jar has become ubiquitous in our home.  Right now, they're everywhere.  As in can't swing a dead cat without hitting one everywhere …
Funny thing is my family has become so accustomed to their presence that they no longer question my varied and increasingly bizarre mason jar projects … or my sanity.  And when I decide to serve them up a dessert or a meal or drink in a mason jar, they simple shrug and grab a spoon.  Or fork.  Or straw …
But beyond the confines of our home?  Well, that's a whole different world.
I'm not sure what my neighbors or friends or family members think about mason jars. If anything.
So when my husband and I joined friends at a dinner party, I had the genius idea to make a dessert in a mason jar to bring along.  Knowing full well that our new friends would either think I was totally brilliant …
or a total nutcase.
And when I found a key lime pie square recipe at Sally's Baking Addiction I knew it would be perfect fit for the cutest ever  mini half-pint mason jars I found at Target …
Key Lime Pie squares recipe
 Makes 8-10 servings in 1/2 pint-sized mason jars
Crust
2 cups finely crushed gingersnap cookies
3 TBS salted butter, softened
Filling
4 oz. cream cheese, softened
4 large egg yolks
14-oz can of sweetened condensed milk (not fat free)
1/2 cup key lime juice
2 tsp. lime zest (about one lime)
*Optional: Reddi Whip or Cool Whip topping with crumbled ginger snaps.
Start by pre-heating the oven to 350 degrees and greasing bottoms of mason jars.
Step 1:  How to Make the Crust
To make the crust, I started with the gingersnaps and butter.  I zapped the butter in the microwave for 5 second intervals until softened.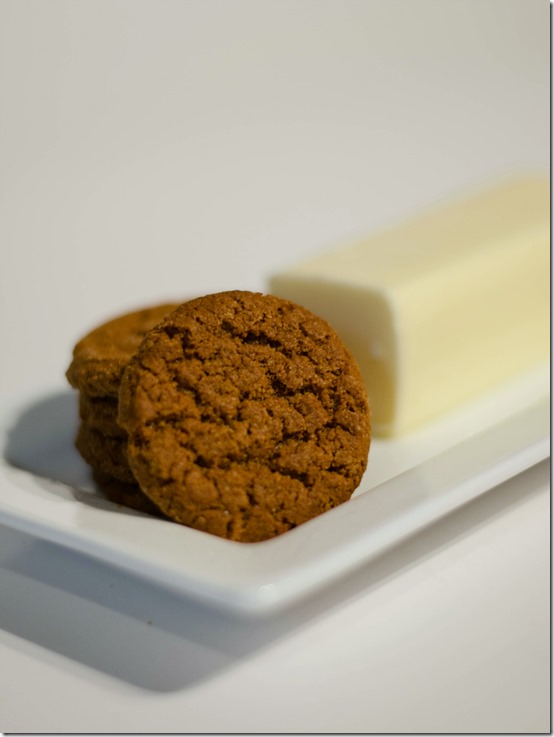 Then I crushed the gingersnaps until they were finely crushed.  You could use a food processor, but I don't have one.  So I just put them in a Ziploc bag and beat them with a rolling pin …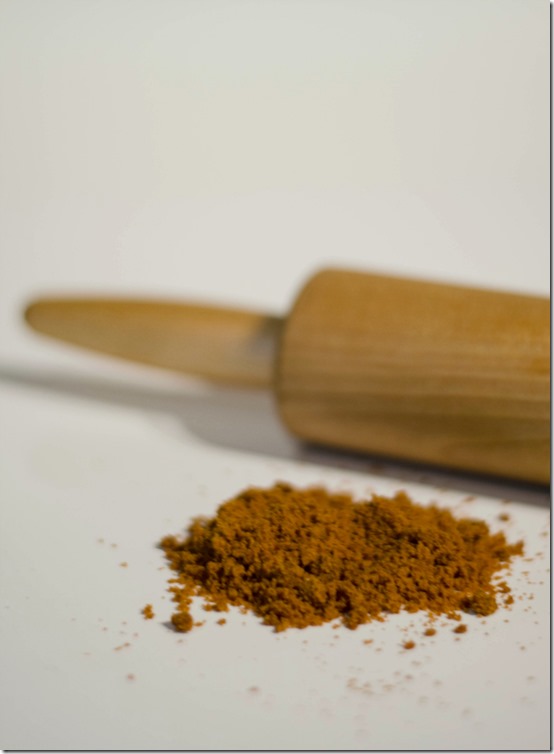 I mixed the gingersnap crumbs with the softened butter by hand, and pressed into the bottoms of the mason jars …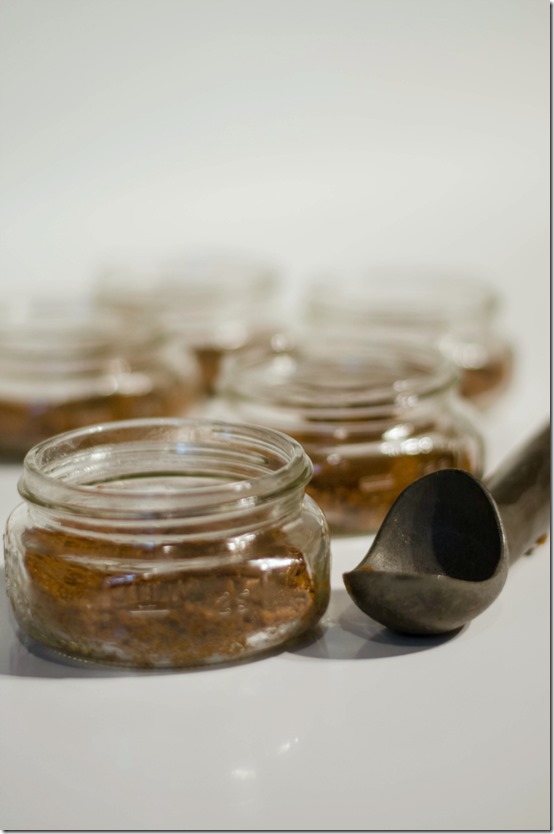 ,,. using the back of an ice cream scoop to press down in place.  I baked the crust for 8-10 minutes in the oven.
Step 2:  How to Make the Filling
While the crust baked, I made the filling …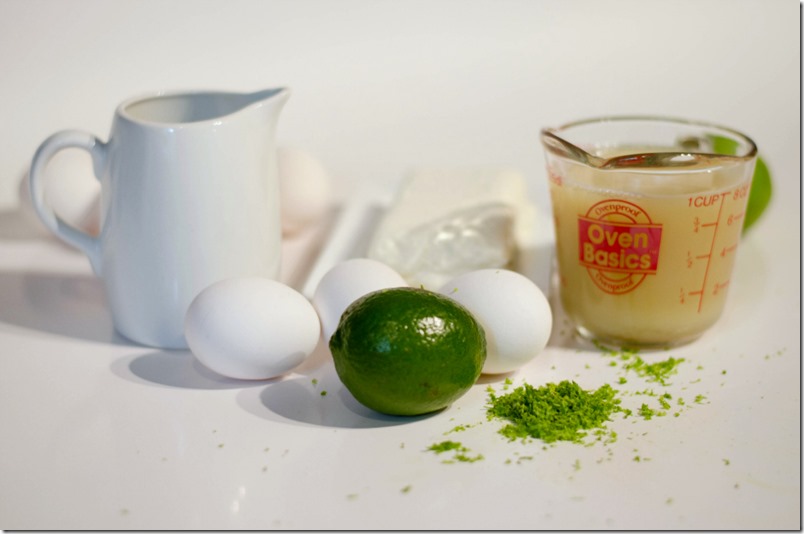 I started with the cream cheese first.  Then added in egg yolks one at a time. Once mixed, I added the condensed milk, lime juice, and lime zest until combined.  My final step was adding a bit of green coloring with the addition of some food coloring …
Step 3: Bake & Refrigerate
I poured the key lime pie filling on top of the ginger snap crust and baked at 350 for 15-18 minutes …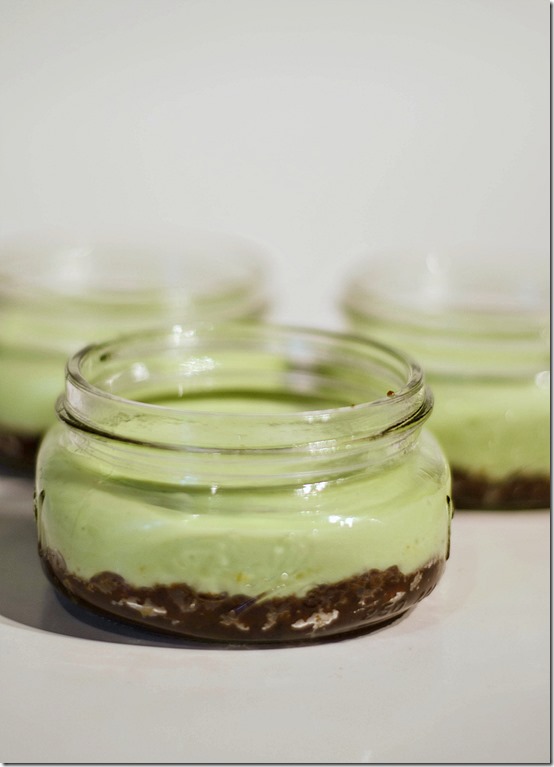 I refrigerated them for a few hours before the party while I got  ready.  And with great trepidation I packed them up for their debut in the real world …
… where I topped them off with some Reddi Whip and some crumbled ginger snaps.
And, yes, there were a few question marks forming over heads when I unpacked the desserts …
and, yes, they did become a topic of conversation …
… and thankfully, yes, everyone enjoyed not just the cute mini mason jar containers but the key lime bars contained within!
This Key Lime Pie recipe was first published on my other blog, it all started with paint.
Sharing:
* The DIY Showoff *